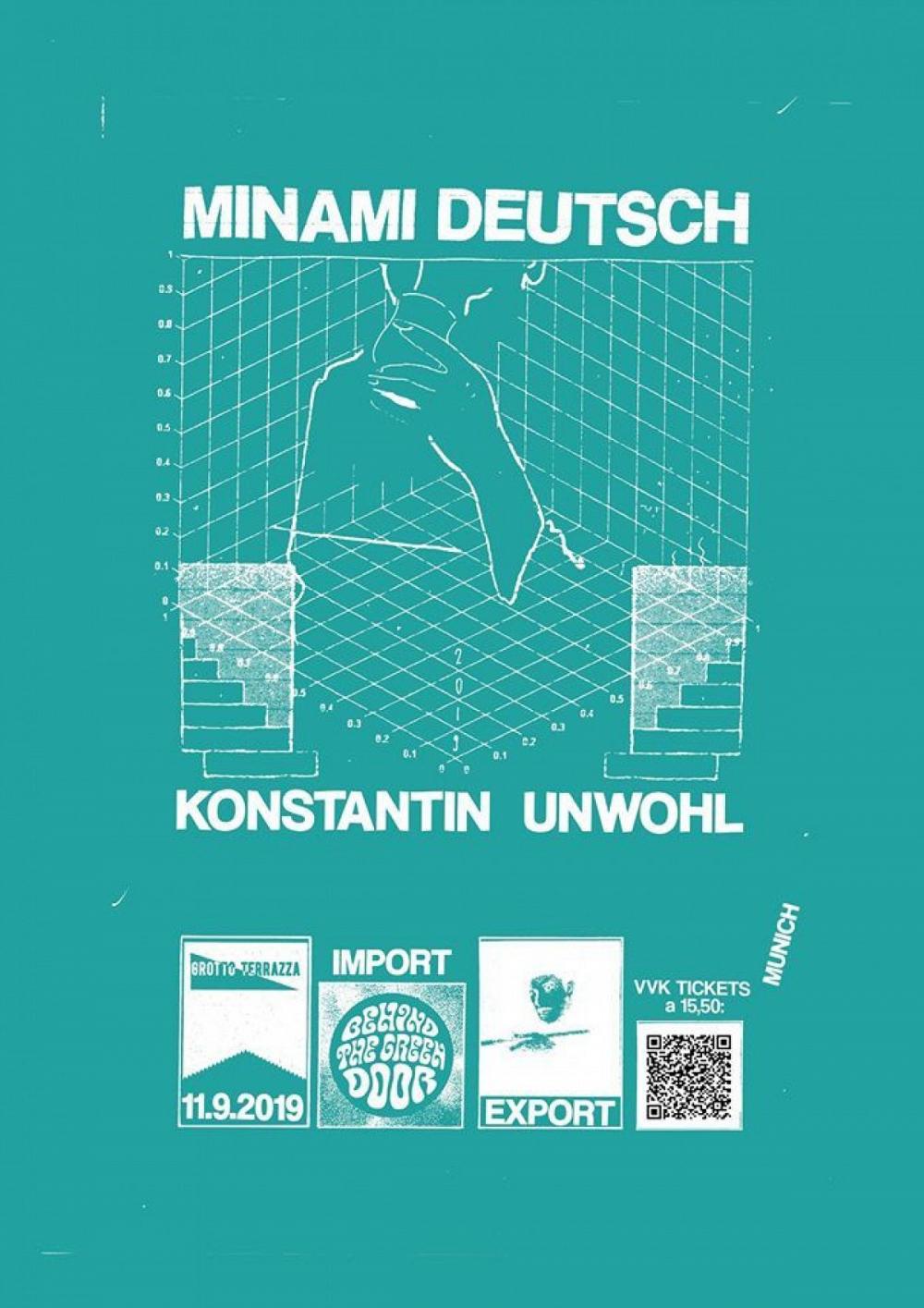 Minami DeutschKonstantin Unwohl
Behind The Green Door + Grotto Terrazza bringen Ihnen
MINAMI DEUTSCH (Krautrock post-Punk, Tokyo)
& KONTSANTIN UNWOHL (Kalte NDW, Hamburg)
ins Import Export!
Minami Deutsch (GuruGuruBrain)
-------------
Kyotaro Miula (Guitar, Vocals, Synthesizer)
Taku Idemoto (Guitar)
Keita Ise (Bass)
Rakuro Kawasaki(Drums)
"Formed by Kyotaro Miula in 2014, they got their start playing live music on the busy streets of Tokyo. This lead to their participation in Krautrock Night, a party hosted by Tokyo Psych Fest, and later a tour of Taiwan."
Die Gruppe hat seitdem weltweit Ansehen gewonnen. Auf ihrer ersten Europatournee hatten wir sie 2016 bereits im Club Milla für ein gefeiertes Konzert zu Gast - nun kehrt Minami Deutsch mit neuen Stücken zu uns zurück:
"In 20th of April 2018, they released their 2nd album "With Dim Light". The album was premiered by an American music media, Aquarium Drunkard, and Pitchfork reviewed it as "Krautrock, psychedelia, and a DJ's flair for track sequencing come together on an album that proves this Tokyo trio is more than just a revival act."
2018 Album Stream:
Minami Deutsch hat ausdrücklich um eine Synthesiser-lastige Vorgruppe gebeten, wir haben die Gelegenheit ergriffen, um den noch-Geheimtip Konstantin Unwohl aus Hamburg nach München zu locken. Herr Unwohl stellt sehr kühle deutschsprachige Wave-Musik her, und erscheint dabei, parallel zu MD, nicht als post-Moderne Nachvollziehung alter Ikonen, sondern als neuer besonderer Austrieb.

Untergrund-Hit "Mein Verstand":
VVK: 15,50€
Abendkasse: 16,00€
Einlass 19:30
Schwere-Reiter-Str. 2
München